Who won Super Bowl MVP in 2021? Tom Brady adds to trophy case with Bucs' championship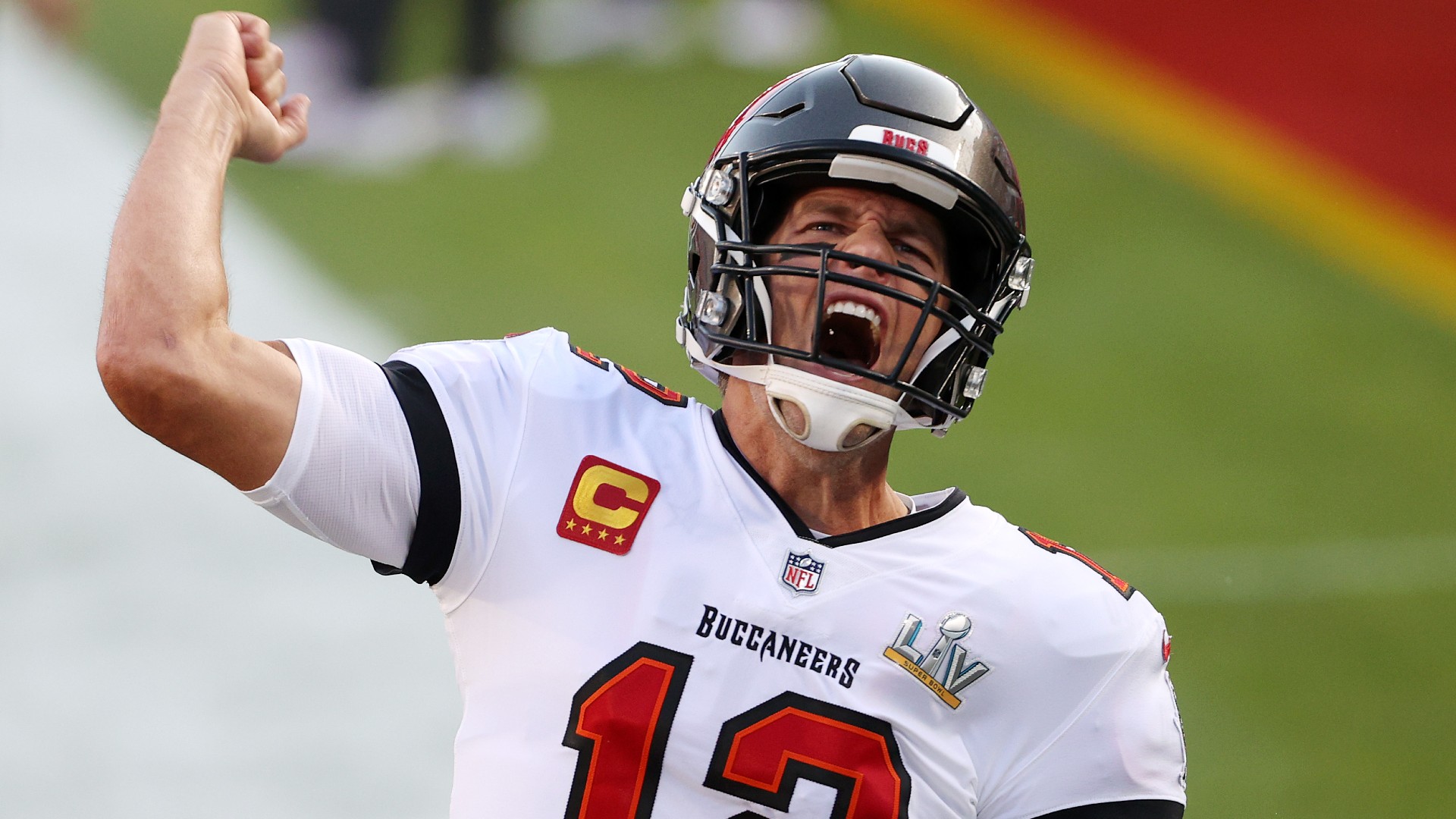 The Buccaneers' masterful Super Bowl 55 win was full of MVP-worthy performances. 
Tampa Bay beat the Chiefs, 31-9, to claim Tom Brady's seventh Super Bowl ring. The victory included a dominating Buccaneers defense that forced Patrick Mahomes into mistakes and rushed throws. There was a "Playoff Lenny" performance by Leonard Fournette. Rob Gronkowski chipped in with two touchdown catches, too. But none of those stellar outings was quite enough to take home the Super Bowl MVP award in 2021.
MORE: History of Super Bowl MVP award winnersWho won Super Bowl MVP in 2021?Tom Brady was named the Super Bowl 55 MVP, his fifth such honor out of his seven Super Bowl titles. It capped off his first year in Tampa Bay, his age-43 season, in a way only Brady could. He connected twice with Gronk for touchdowns before throwing another to Antonio Brown, all in the first half. From there, Brady could mostly turn around and hand the ball off to Fournette and Ronald Jones. That meant Brady's volume passing stats didn't sky through the roof — he finished 21-of-29 passing for 201 yards.But every time the Buccaneers needed Brady to deliver, he did. His first touchdown to Gronkowski capped a 75-yard drive after the Chiefs got on the board first with a field goal, and Brady's second scoring throw to his former Patriots teammate proved to be the backbreaker.The Chiefs had Brady stopped once on the key second-quarter drive with a deflected interception reeled in by Tyrann Mathieu. But a defensive holding penalty negated that. Three plays later, Brady jogged off the field again, Tampa Bay being forced to kick a field goal. An offside flag on the kick gave Brady a third chance, and on the very next play, he threaded a 17-yard touchdown down the middle of the field to Gronkowski.MORE: Chiefs' penalties set up Brady to Gronkowski TD
Then on the final Tampa Bay drive of the first half, Kansas City chose to use timeouts to try and get the ball back. Instead, the stoppages aided Brady in having enough time to score once more. He capped the drive off with a 1-yard touchdown pass to Brown.The win Sunday night validated everything about Brady's decision to leave New England and join the Buccaneers. The move brought Gronkowski out of a one-year retirement to join Brady. It led to the signing of Brown, who Brady had befriended in a brief stint together in New England in 2019. The Buccaneers also went all-in on the unwanted veterans bandwagon by signing Fournette, too, who played at his best during the postseason.Brady wasn't playing a season at 43 just for the sake of playing. He was competing in it, as he always has in the NFL, to hoist the Lombardi Trophy. And when all the maneuvering in Tampa Bay came to pass, it ended with Brady, yet again, standing atop the mountain. Super Bowl MVP winnersYear
Super Bowl
MVP
Team
Pos
1967
I
Bart Starr
Packers
QB
1968
II
Bart Starr (2)
Packers
QB
1969
III
Joe Namath
Jets
QB
1970
IV
Len Dawson
Chiefs
QB
1971
V
Chuck Howley
Cowboys
LB
1972
VI
Roger Staubach
Cowboys
QB
1973
VII
Jake Scott
Dolphins
S
1974
VIII
Larry Csonka
Dolphins
RB
1975
IX
Franco Harris
Steelers
RB
1976
X
Lynn Swann
Steelers
WR
1977
XI
Fred Biletnikoff
Raiders
WR
1978
XII
Harvey Martin/Randy White
Cowboys
DE/DT
1979
XIII
Terry Bradshaw
Steelers
QB
1980
XIV
Terry Bradshaw (2)
Steelers
QB
1981
XV
Jim Plunkett
Raiders
QB
1982
XVI
Joe Montana
49ers
QB
1983
XVII
John Riggins
Redskins
RB
1984
XVIII
Marcus Allen
Raiders
RB
1985
XIX
Joe Montana (2)
49ers
QB
1986
XX
Richard Dent
Bears
DE
1987
XXI
Phil Simms
Giants
QB
1988
XXII
Doug Williams
Redskins
QB
1989
XXIII
Jerry Rice
49ers
WR
1990
XXIV
Joe Montana (3)
49ers
QB
1991
XXV
Ottis Anderson
Giants
RB
1992
XXVI
Mark Rypien
Redskins
QB
1993
XXVII
Troy Aikman
Cowboys
QB
1994
XXVIII
Emmitt Smith
Cowboys
RB
1995
XXIX
Steve Young
49ers
QB
1996
XXX
Larry Brown
Cowboys
CB
1997
XXXI
Desmond Howard
Packers
KR/PR
1998
XXXII
Terrell Davis
Broncos
RB
1999
XXXIII
John Elway
Broncos
QB
2000
XXXIV
Kurt Warner
Rams
QB
2001
XXXV
Ray Lewis
Ravens
LB
2002
XXXVI
Tom Brady
Patriots
QB
2003
XXXVII
Dexter Jackson
Buccaneers
S
2004
XXXVIII
Tom Brady (2)
Patriots
QB
2005
XXXIX
Deion Branch
Patriots
WR
2006
XL
Hines Ward
Steelers
WR
2007
XLI
Peyton Manning
Colts
QB
2008
XLII
Eli Manning
Giants
QB
2009
XLIII
Santonio Holmes
Steelers
WR
2010
XLIV
Drew Brees
Saints
QB
2011
XLV
Aaron Rodgers
Packers
QB
2012
XLVI
Eli Manning (2)
Giants
QB
2013
XLVII
Joe Flacco
Ravens
QB
2014
XLVIII
Malcolm Smith
Seahawks
LB
2015
XLIX
Tom Brady (3)
Patriots
QB
2016
L
Von Miller
Broncos
LB
2017
LI
Tom Brady (4)
Patriots
QB
2018
LII
Nick Foles
Eagles
QB
2019
LIII
Julian Edelman
Patriots
WR
2020
LIV
Patrick Mahomes
Chiefs
QB
2021
LV
Tom Brady (5)
Buccaneers
 

777ww คาสิโน
wm คาสิโน
คาสิโน ปอยเปต
คาสิโน ออนไลน์ ได้เงินจริง
สมัคร คาสิโน